LINKEDIN BUSINESS ACCELERATOR
Position Yourself as an Authority and Thought Leader in your Niche

Build Community and Long-Term Social Capital

Get MORE Inbound Opportunities Faster and Easier

Create Thought Leadership Content that Makes an Impact

We are going to Accelerate Your Business Online together!

LinkedIn Business Accelerator is a 90-day, step-by-step coaching program that grows your business using LinkedIn!
Hi! I'm Judi Fox also known as #FoxRocks on LinkedIn.
I launched LinkedIn Business Accelerator - so everyone can LinkedIn Like a Fox 🦊 because I know first hand how building a strong network and positioning yourself online to receive opportunities… can literally change everything in life and business - it changed mine!
I started my career as a Chemical Engineer in 1999, got my Masters in Environmental Management, worked my way up the Fortune 500 ladder for 10+ years and thought - "hey… it's always going to be easy to find a job".
However, in 2008, the economic crisis hit, faced corporate layoffs, and unemployment. I learned quickly that a strong community of support can make ALL the difference!
The best long-term career and business insurance investment I've ever made was… learning how to connect, network effectively, and get the most out of using LinkedIn.
Since 2008, I was able to successfully launch my own Environmental Consulting business and also positively impacted hundreds of people with my LinkedIn Job Search Coaching and Resume business.
And then as life would have it… In 2014 a family crisis hit, I decided to go back into a full-time corporate position.
This experience forced me FOCUS and MAKE TOUGH decisions.
During those 4 years, I learned that it is not a matter of "if" something tough will happen in life, but "when" and the best long-term resilient decisions I could ever make were leaning into my strengths, trusting my intuition, making "hell yes" decisions quickly, and showing up everyday as myself.
In those 4 years, I filmed video ever day, took Marie Forleo's B-School, studied marketing and sales to learn what drives social sales, online community building, and viral impact driven content creation…
And in 2018, I launched the "LinkedIn Business Accelerator" strategy to achieve:
✔ 3+ Million Views in 2018
✔ Average 600 Likes AND Comments per Post
✔ Achieved a Range of 50,000 to 500,000 content views per Month
✔ Increased Following from 2,000 to 24,000 in a year
✔ Reverse engineered the process so YOUR results are the star of the show:
⭐ "Judi Fox KNOWS LinkedIn. That's the only way to put it. She makes things completely understandable & it works!"
⭐ "I've taken several courses from LinkedIn "experts" & Judi provided more in depth detail and ninja secrets than any of the others." Chelsea P.
⭐ "Consulting with Judi has been so beneficial for me and my company each and every time." Roger W.
⭐ "WOW is all I have to say! She is fabulous to work with & I would direct message her RIGHT AWAY if you want to get more traction!!!" Jessica G.
Let's jump on a call and get you into "LinkedIn Business Accelerator" ASAP and repeat these results for YOU.
Plus I have heard that I DELIVER a ton of VALUE and it is fun working with me.
It's a rumor that I won't deny.
So excited to get YOU Results and Opportunities!
AND I also KNOW…
Having a mentor by your side, offering you specific strategies and working together towards your business results, sales, and opportunities can change your life!
Do you want to use LinkedIn like it's 2005 or 2019?
If you said 2019, then you are in the right place.
Picture this happening…
… Increasing your business online authority and creating buzz that lasts well beyond posting everyday
… Create an evergreen LinkedIn profile that sells while you sleep
… Becoming the GO TO expert in your niche
… Attract clients and professionals that are ready to have business conversations
… Being sought after for speaking engagements, articles, podcasts, quotes, interviews, and more…
LinkedIn is a thriving social media platform with tons of high level decision making professionals (with budgets), 600 Million+ Members, and is considered #1 in Lead Generation, and now you can… tap into the full potential that LinkedIn offers!
LinkedIn Business Accelerator - to LinkedIn Like a Fox - is for you if…
You want to grow your presence and business organically on LinkedIn

You want a clear plan to get in front of your target audience

You want to get the biggest bang for your time spent on LinkedIn

You want inbound leads and a better Direct Messaging (DM) experience

You create content on Facebook, Instagram, Twitter, YouTube, etc… and you want to re-purpose that content
How does LinkedIn Business Accelerator Coaching Work?
You will have LOTS of access to ask me questions along the way, so you get answers to move forward with your strategy fast.
2 LIVE coaching sessions per week - RECORDED FOR REPLAY - you can pick either date and time that work for you

Receive lifetime access to the related course materials as the LinkedIn Business Accelerator to LinkedIn Like a Fox evolves

LinkedIn Like a Fox Members will be superstars and your results will be my results



Week 1 - Create a LinkedIn Profile that Converts
LinkedIn is MORE than your CV or Resume. We are going to create a clear brand and social selling signal that converts people using your highest ROI (Return on Investment) offer or drive traffic to your most critical brand building activity online.
This strategy works because we create a profile that visually and content strategy positions YOU as a thought leader whether you are running a business, managing business operations at a company, or looking for a job.
We are all people working with other people, which is why we will focus on Human to Human Marketing strategies. We will position you as an authority on your profile and / or company page to grow a high-quality audience.
Week 2 - LinkedIn "Rules" of Engagement and Etiquette
LinkedIn is an online social networking party that has spoken and unspoken rules of engagement and etiquette. We will navigate this together and go over how to best show up and build a presence on LinkedIn, without create a LinkedIn "party that you feel you never leave".
We all know that feeling… you have to show up ALL the time to stay relevant, but let's instead give some focus on how to create long term sustainable business relationships and networking on LinkedIn that goes well beyond "consistently creating content".
Week 3 - Target Audience and LinkedIn Growth
We are going to focus on getting your message in front of the right people to get consistent organic leads and opportunities.
Before we start posting content, we are going to spend time building an ideal audience strategy, optimizing the time you spend in the newsfeed, and engaging / commenting on other people's content on the platform.
PS - Networking is my jam and I love talking about it, dreaming about it, and figuring out how to get that knowledge to work for YOU! We will cover my top tips and strategies that have worked to grow an online community and build a strong network.

Business's thrive on people referring and talking about other people.
The mindset we are going to strengthen is showing interest in others before expecting anyone to show interest in us.
We are also going to dive into how to make your ideal client do LESS work to get connected and to engage them in a conversation.
This will set you up to have an active audience once you post your own content. In addition, we are going to cover how to get more traction from sharing other people's content, create more buzz on LinkedIn, and creating a comment engagement strategy.
Week 4 - Implementation Week
Week 5 & 6 - Content Strategy, Video, and Re-Purposing Content
Develop a social media strategy plan and playbook to enhance your current social media platform activity that is already getting engagement.
In addition, we will dive into exactly how to re-purpose your own content from other social media channels to make it applicable to LinkedIn and build out each part of your content strategy around re-purposing.
You will get examples for 3 types of content to create in order to attract clients and learn how to sell in your messaging and copy, without feeling "salesy" or pushy or burning out your connections.
Week 7 - Implementation Week
Week 8 - Clear Signal, Inbound Leads, and Direct Messages
Creating a clear content signal that sells and attracts people to comment and engage is the goal. Develop content strategy messaging to encourage the right activities from your community when they see your content online. We will work with filling your sales funnel and get you the exact Direct Messages on LinkedIn from the right clients. By the end of the 4 weeks together, you will have a new found love of LinkedIn, a content strategy in place so people know you as the go to person for your audience, you will show up more confidently on the platform, and be able to re-purpose your content confidently on the LinkedIn platform.
Week 9, 10, 11, 12 - Implementation Weeks and BONUS 1x1 Coaching Moments

BONUS - LinkedIn is rolling out LIVE Video in 2019 & we will create an audience to go live to on LinkedIn.
DOUBLE BONUS - You will have fun during the weeks we have together. Because I believe leveling up your business is FUN!
Social media is social and FUN. If you agree with that - then seriously…
Jump on a call with me… because we need to hang out ASAP!
TRIPLE BONUS - As a LinkedIn Business Accelerator - to LinkedIn Like a Fox Member you get TONS OF EXTRA access to get your questions answered for 1 MONTH afterwards to make sure you keep the momentum going.
Plus I am putting it on my calendar right when you sign up to check in periodically with ALL members through the next year because I really want you to succeed on LinkedIn!
As a group we will celebrate our wins together and enjoy your lifetime access to this program as it evolves!
Do you want more FOX in your life?
Listen to the "Judi Fox Show" Podcast, it is guaranteed to make you laugh and it's all about "Leveling up your Business with Heart and Humor"
Personally, after working with Rachel Bell, I was able to take the progress I had already achieved in my business up to that point (listen to The Judi Fox Show Episode 04 | with Racheal Cook LIVE coaching me on launching a group coaching) and improved my mindset, set new leveled up goals for growing clients online authority, focused on LinkedIn, and got clarity on which repeatable and predictable business processes I needed to put into place to level up my coaching program into a 2.0 version of "LinkedIn Business Accelerator" to be a LinkedIn Like a Fox Rock Star.
If you enjoy the episode, pretty please with fox ears on top:
🦊 Take a quick screenshot
🦊 Share your takeaways / thoughts
🦊 and I will give it LOVE on Instagram and LinkedIn.
Check out some of my 2019 LinkedIn Speaking Events.
Plus upcoming Speaking Events at Social Media Week, Video Marketing World, VidSummit 2019, and Broadcast Your Authority
February 6, 2019 - Marketer's Anonymous - Judi Fox #FoxRocks - LinkedIn Lead Generation and Marketing Strategies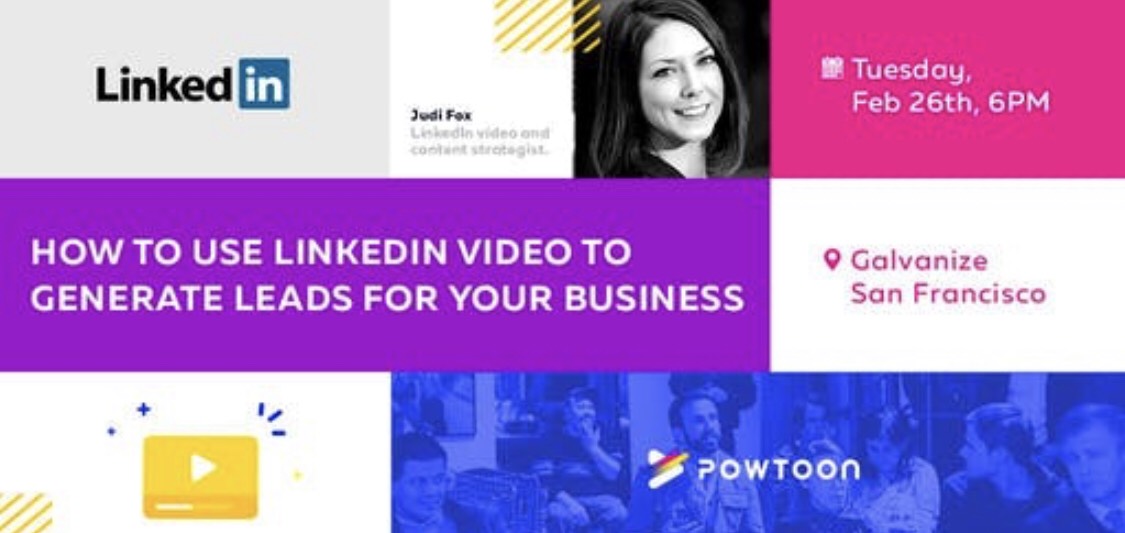 February 26, 2019 - San Francisco Marketers Club Event at Galvanize - How to use LinkedIn Video to Generate Leads for your Business
Follow me on Instagram too for more Fox Fun Times and Behind the Scenes!